Stacking The Shelves #2
Stacking The Shelves
A quick reminder that Stacking The Shelves is a wonderful way that we can share books we've won, bought, or been gifted in either printed or eBook form. It is a weekly meme created by Tynga's Reviews that is generally posted on Saturdays.
For stacking the shelves this week I sadly can not report any physical books to "stack" as the one I am waiting on (Blackhearted Betrayal by Kasey MacKenzie) hasn't shown up yet. However, I did add to my eBook "stack" this week!
The Freebies
'Scuse Me While I Kill This Guy by Leslie Langtry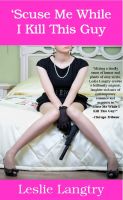 'Scuse Me While I Kill This Guy is about single mother Gin Bombay who happens to be an assassin from a long family line of killers. She is invited to a family reunion which is where all the craziness happens and everything goes downhill at a rapid rate. Gin's five-year-old daughter must undergo a blood initiation to join and be bonded into the family legacy, Gin herself has been hired to eliminate a spy in the family which might be her brother, and one of her marks also just happens to be a client of her new boyfriend. Needless to say this book is action packed to the extreme!
Become (Desolation #1) by Ali Cross
Become (Desolation #1) centers on sixteen-year-old Desolation Black who enjoys Hell where she is isolated and cold but is forced to go to Earth instead. There she has to face all of the evils that are going on that she can't stand and the good which completely freaks her out. She finds what she least expects to in this alien world, a friend, one that gives her a reason to change from the demon she is inside into something that may no longer resemble her father, Lucifer. I am thrilled to have found this for free and will be reading it shortly, most likely with a review to follow.
The Choice (Walk the Right Road) by Lorhainne Eckhart
The Choice (Walk The Right Road) is a fascinating book about Marcie who has a strong connection to the spiritual. She feels that she has a connection such as this with her boyfriend Dan but he distances himself right from the get go. After separating Marcie is waiting at an airport for her luggage when she is mugged, during which she forgets who she is. Luckily for Marcie a DEA agent named Sam witnessed the whole event and decides to care for her until she regains her memory. As they spend time together they develop feelings for each other, but when Marcie regains her memories will it tear them apart? The Choice seems like a nice easy read and I look forward to reading it if I can ever make it through my very large eBook TBR pile!
Giveaway Prize
Wish I Could Have Said Goodbye by Shari Brady
Wish I Could Have Said Goodbye is about a family who lost a loved one because of addiction. The story is told from sixteen-year-old Carmella's point of view as she tries to overcome the loss of her older sister and move on with her life. The book is filled with emotion, really delving into what it is like to lose someone so close to you and all of the turmoil you deal with as you try, not to forget, but to accept the person you've lost is gone and to attempt to move on with your existence. I've heard many great things about this book and so I was thrilled when I found out that I won an eBook copy of Wish I Could Have Said Goodbye. I will definitely be doing a review of this one as well.
That is all for this week, thanks for stopping by and enjoy all of the other fabulous blogs as we join each other in Stacking The Shelves!
11 responses